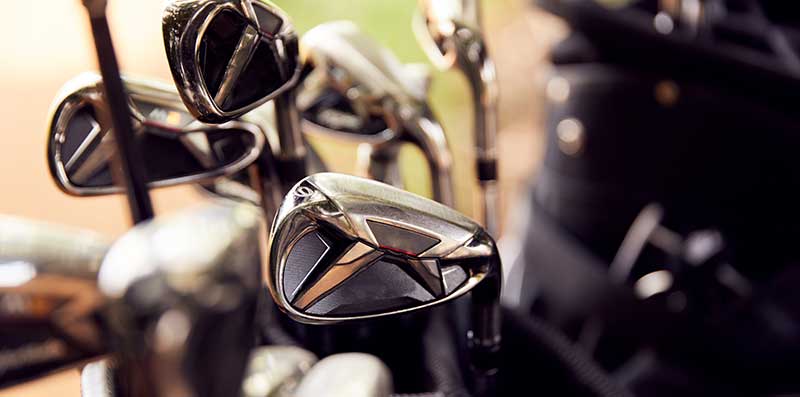 Avid golfers, pro shop staff and golf club rental services know that clean golf clubs improve scores on the fairway. Searching "how to clean golf clubs" invariably calls for buckets or sinks, soaps, brushes and time-consuming soaking then manually scrubbing club heads one at a time. That's why cleaning multiple irons simultaneously in a benchtop ultrasonic cleaner makes good sense - both in terms of speed and superior cleaning results.
How Ultrasonic Energy Cleans Golf Clubs
Ultrasonic energy has been employed since the 1950s as a means of removing soils and other contaminants from nearly any product that can be safely immersed in a biodegradable ultrasonic cleaning solution.
Ultrasonic cleaners from benchtop to floor-mounted industrial units are equipped with generator powered transducers that create billions of microscopic vacuum bubbles that implode on contact when they contact items immersed in the solution.
The imploding bubbles blast loose and carry away ground-in dirt, grass and other contaminants on golf club surfaces and grooves. This is accomplished in minutes and without damage*. It doesn't take a genius to figure out that hands-free cleaning 3 or 4 or more club iron heads at once makes sense.
Selecting an Ultrasonic Golf Club Cleaner
Benchtop ultrasonic cleaners are available in several sizes, measured by internal cleaning tank dimensions and cleaning solution capacity. Ultrasonic cleaning is accomplished in baskets that are placed in the tank.
To clean golf clubs, you'll need a tank that can accommodate a basket that allows you to fully immerse the club heads in the solution. Club heads should not be in contact, so your tank decision depends on how many you want to clean at a time.
An example is the 1.5 gallon Elmasonic EP60H available from iUltrasonic with a separately purchased basket 10 x 4.5 x 3-inches deep. Features include a timer, a heater for the correct cleaning solution temperature, a sweep function for uniform cleaning, and a pulse mode to remove particularly stubborn soils.
Selecting a Golf Club Cleaning Solution
The correct cleaning solution chemistry goes a long way to improving golf club cleaning. A recommendation is biodegradable Elma tec clean A4. Diluted to 1 to 5% with water it quickly removes dirt and other organic contaminants associated with golf club heads after a round on the fairway. The recommended cleaning temperature is 50 to 70⁰C (122 to 158⁰F).
How to Set Up your Ultrasonic Golf Club Cleaning System
You'll want a system that lets you attend to other matters during the cleaning cycle. This is especially true if you operate a pro shop or club rental service.
A suggestion is placing your ultrasonic cleaner next to a wall and rig a support system allowing you to place and hold shafts in an upright position. Design it in such a way that club heads are separated and supported to be fully immersed in the ultrasonic cleaning solution.
Ideally the tank should also be positioned to allow draining spent solution (see below).
The Ultrasonic Golf Club Cleaning Cycle
Cleaning time depends on the number and condition of the club heads. With experience you'll become an expert. Tip: First wash off dirt and other loose contaminants.
Fill the tank half way with water and add the correct amount of cleaning solution concentrate for a full tank. Continue adding water to the fill line.
Turn the unit on to mix and degas the solution. Activating the pulse mode will speed this step that drives off trapped air.
When ready to clean set the thermostat to the recommended temperature and allow the solution to heat.
Carefully position the club heads in the solution as noted above.
Set the timer and attend to other matters.
At the end of the cycle remove and inspect the results (they will be hot) then rinse them in fresh water.
Maintenance Tips for your Ultrasonic Golf Club Cleaner
Contaminants removed during the cleaning cycle either rise to the surface and can be skimmed off and set aside for disposal or fall to the bottom of the tank. The solution can be used repeatedly until cleaning efficiency drops off.
Drain the solution and dispose of it along with skimmed contaminants according to local regulations. Take the time to clean the tank following recommendations in the instruction manual.
Fill and degas fresh solution and you're ready for new cleaning cycles.
For more information on ultrasonic cleaning, visit Tovatech's ultrasonic cleaning learning center. Contact the cleaning professionals at iUltrasonic for unbiased information on selecting the best ultrasonic golf club cleaner that meets your particular needs.