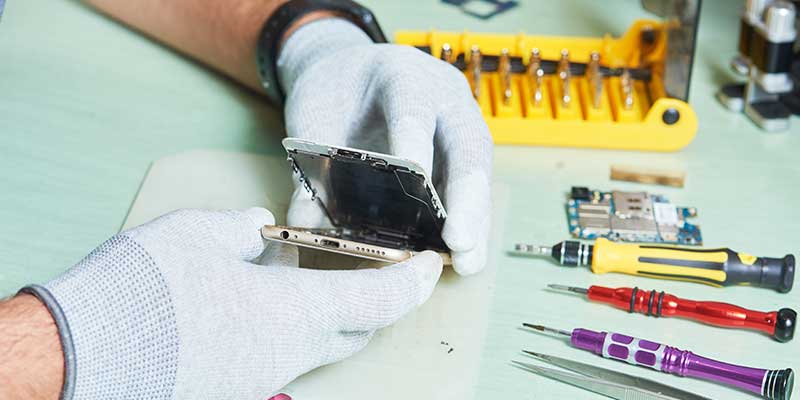 One has but to scan the technology columns in the printed and online press to appreciate how complex, multifunctional (and sometimes costly) today's mobile devices have become. Being mobile subjects these devices to hazards such as dirt and water ingress that can render them unworkable. This post describes how to clean PDAs, smart phones and other mobile devices quickly and safely with an ultrasonic energy.
5 Reasons Why Ultrasonic Cleaning Mobile Devices Works Best
Thorough but Gentle . Using brushes, solvents and other mechanical methods risks damaging delicate PDA circuitry in addition to missing tight spots in the devices' components. As explained below, ultrasonic energy reaches every surface, no matter how "tight," to remove contaminants.
Fast. A cleaning cycle for mobile device electronics can be accomplished in 3 to 10 minutes, depending on the condition of and number of components being cleaned at a time.
Versatile. Ultrasonic cleaner sizes and capacities are available for the at-home technician cleaning a PDA at a time or for commercial or storefront mobile device repair services.
Environmentally Friendly . Most cleaning solution concentrates available today are marketed as biodegradable concentrates. Those suitable for cleaning PDAs, smart phones and other mobile devices are perfectly safe.
Economical. A biodegradable cleaning solution concentrate ideal for PDAs and similar electronics is diluted to 3 to 10 percent with water in the ultrasonic cleaning tank. It can be reused for multiple cleaning cycles, which, when coupled with cleaning speed, makes it highly cost effective.
How Ultrasonic Cleaning Works on PDAs, Smart Phones and Other Mobile Devices
Ultrasonic cleaners ideal for restoring dirty PDAs are benchtop units comprising a tank containing a biodegradable cleaning solution and generators that power ultrasonic transducers mounted on the bottom of the tank. The transducers operate at an ultrasonic frequency such as 37,000 cycles per second (37 kHz).
This in turn creates billions of minute vacuum bubbles in the solution that implode with tremendous force when they come in contact with contaminants on PDAs, quickly and safely removing them. The bubbles reach into the narrow crevices and tiny holes that hand-cleaning methods can't touch in a process called ultrasonic cavitation.
It is the fastest, safest way to restore mobile device innards as well as cases to a like-new condition. If you have doubts, the process is also used in manufacturing printed circuit boards.
Selecting and Using an Ultrasonic Cleaner for Mobile Devices
For cleaning PDA and other mobile devices consider the ¾ gallon Elma E Plus 30H or 1½ gallon Elma E Plus 60H ultrasonic cleaners available from iUltrasonic.
These units (as well as those with larger tank capacities in the E Plus series ) are especially ideal for the job because they are equipped with a permanent Sweep mode that is very important to prevent damage to sensitive PDA components, a heater to further improve the ultrasonic cleaning process, a Pulse mode that speeds degassing fresh solutions and a timer.
A recommended cleaning solution is Elma tec clean A1 diluted to 3 to 10% with water. (Note that fresh solutions should be degassed for 10-15 minutes by operating the unit without a load.)
A Representative Cleaning Cycle for PDAs, Smart Phones and Other Mobile Devices
We emphasize "representative." With experience you'll develop your own routine.
Prepare your solution by adding water to the tank half-way point, adding the correct amount for of cleaning solution concentrate and continue filling the tank with water.
Turn the unit on, activate the "Pulse" or "Degas" mode if so equipped or run it for about 10-15 minutes to mix the solution and drive off trapped air. When ready to clean
Set the temperature dial on your ultrasonic cleaner to 50˚C and activate the Sweep mode if your cleaner does not have a permanent Sweep mode.
Place disassembled mobile device components in the mesh basket in such a way that they do not come in contact with each other.
When the set temperature is reached the unit will start. Lower the basket into the solution and set the timer dial for 10 minutes. The unit will automatically stop.
Remove the components and inspect. If clean thoroughly rinse them with deionized water and dry them. They are now ready for reassembly.
Cleaning Bath Maintenance
Residues rising to the surface of the cleaning solution should be skimmed off and disposed of in an acceptable manner. When the ultrasonic cleaning solution becomes discolored and cleaning time grows longer the solution should be replaced. Drain it and dispose of it in a proper manner. Clean the tank according to the manufacturer's recommendation. Fill it with a fresh batch of cleaning solution then mix and degas it.
Mobile Device Ultrasonic Cleaning Examples
PCBs
As with many electronic devices, the printed circuit boards (PCBs) on today's mobile phones carry powerful functionality in a delicate setting. For those users who understand how to uninstall and replace their PCBs, they can remove the circuit boards and place them in a tray within the ultrasonic cleaner. As the PCBs are suspended in the cleaning solution, the cavitation effect can remove any internal contaminants while preserving the electronic connections.
Water Damage
While some users make the mistake of trying to fix water-damaged phones themselves either by charging the phone or using a hot blow-dryer on the PCBs, ultrasonic cleaners are highly effective at remedying water damage to mobile phones.

The process involves cleaning PCBs with a free-rinsing aqueous detergent solution, then rinsing with distilled water to remove any chemical residue. The PCBs are left to air-dry, as hot air from hair dryers can exacerbate the damage. Isopropyl alcohol (IPA) can be used as a final rinse to accelerate the drying process.

Note: Do Not Use IPA in an ultrasonic cleaner without appropriate precautions. Contact the scientists at iUltrasonic for information.
Casings
Ultrasonic cleaners are just as effective at cleaning the casing on the outside of the devices as they are at cleansing the circuit boards on the inside. Mobile device users can disassemble their phones and wash their casings in a special cleaning solution that can reach the smallest crevices. The sensitive input and display devices will also remain undamaged.
Bacteria and Viruses
Due to their constant use, mobile phones can also serve as a home for various disease-carrying microorganisms. For many years, physicians, dentists and other medical professionals have used ultrasonic cleaners as part of the process of cleaning and sterilizing their equipment. Mobile phone users can also use their ultrasonic cleaners to remove many of the bacteria and viruses that can cling to the surfaces of their phones.
Questions?
Call the iUltrasonic cleaning experts for recommendations on equipment that meets your needs for sonic cleaning mobile devices or for other ultrasonic cleaning applications.