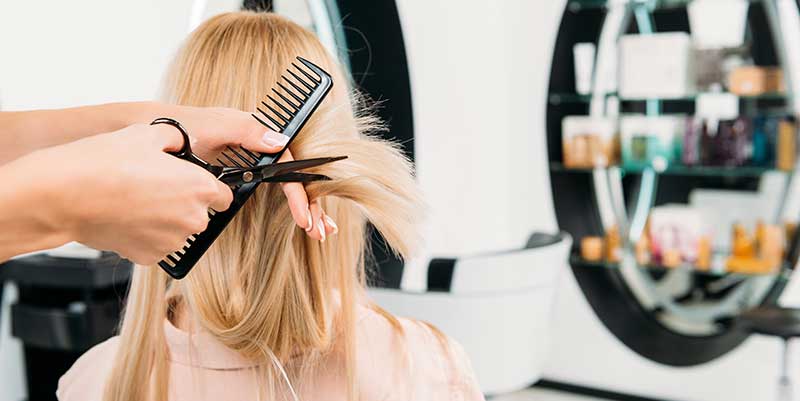 Cleaning and disinfecting scissors, clippers, combs and other reusable instruments in barber shops and beauty salons is a wise practice, and in states such as New Jersey is mandated by the State Administrative Code Title 13 Chapter 28 issued by the Board of Cosmetology and Hairstyling. Subchapter 3.2 section b states in part "All reusable implements and tools used in the provision of manicuring services shall be sanitized, consistent with the following: 1) An enzyme pre-soak shall be used prior to cleaning; 2) The implement shall be placed directly into an ultrasonic unit for a 10-minute cycle, or as recommended by the manufacturer."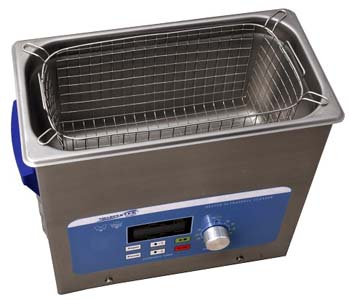 These recommendations hew closely to those governing the cleaning, sanitizing or sterilizing of surgical and dental instruments. The presoak step keeps particles from drying on surfaces thereby becoming more difficult to remove while immersion in an ultrasonic cleaner bath completely removes contaminants from combs, clippers, scissors and similar implements – contaminants very difficult if not impossible to thoroughly remove by a scrub brush.
After the ultrasonic cleaning cycle the implement are rinsed, dried, placed into a chemical disinfectant or sterilized in an FDA-registered autoclave then stored.
Selecting an Ultrasonic Cleaning System for Hair Salons
Ultrasonic cleaning systems for hair salons consist of the cleaner and a solution based on a biodegradable cleaning solution concentrate into which the instruments are placed. Ultrasonic cleaners come in a variety of capacities that can be matched to the number of chairs in your barber shop or hair salon. You'll want a unit that has a cleaning basket of sufficient size to accommodate scissors, manicure tools and other implements without crowding. Capacity decisions also rest on whether you clean implements individually as you go or batch them for cleaning at the end of the day.
An example for a small to medium-size salon is the 1.6 gallon capacity TOV 180-6L unit with a 12 x 6 x 6-inch deep tank, a lid and wire mesh basket. It has a degas mode, recommended by New Jersey Chapter 28 "to remove any air bubbles caused by the turbulence of the tank filling." It is also equipped with a sweep mode to provide even distribution of safe but powerful sonic cleaning action provided by the unit's 40 kHz ultrasonic transducers. Operating parameters are shown on the digital display.
A suggested cleaning solution concentrate is biodegradable enzymatic MedClean C7 medical and surgical instrument cleaner shipped in 1-gallon containers and diluted to 1 to 3% with water.
The 1.6-gallon capacity TOV 180-6L ultrasonic cleaner is shipped with a lid, basket and instruction manual.
An Instrument Cleaning Cycle for Hair Salons
Prepare the solution by adding water to the ultrasonic cleaner tank, then the correct amount of MedClean C7. Do not overfill or under fill. Turn the unit on and activate the degas mode to both mix the solution and drive off trapped air.
When you are ready to clean arrange instruments* in the mesh tray and lower the tray into the solution. Do not crowd them. Put the lid on the cleaner to reduce noise and evaporation. Set the timer for 10 minutes as recommended by the New Jersey regulations, or for time recommended by your local regulations.
At the end of the cycle remove and inspect the instruments. If satisfied a rinse with distilled or deionized water is suggested to remove traces of cleaning solution residues without leaving water spots.
The instruments are now ready for disinfecting or sterilizing, then storage until needed.
The cleaning solution should be drained and replaced on a regular basis - at a minimum once a day. Dispose of the solution in an approved manner, rinse the tank with clean water then disinfect it with a 70% IPA solution or use medical disinfectant wipes. Do not wipe the interior of the tank with regular toweling that may leave a fiber residue.
Then prepare and degas a fresh batch of solution.
Contact the iUltrasonic cleaning specialists for answers to your questions or help in selecting the correct ultrasonic cleaner for your barber shop or beauty salon.
*Chromium-plated tools should not be cleaned ultrasonically.