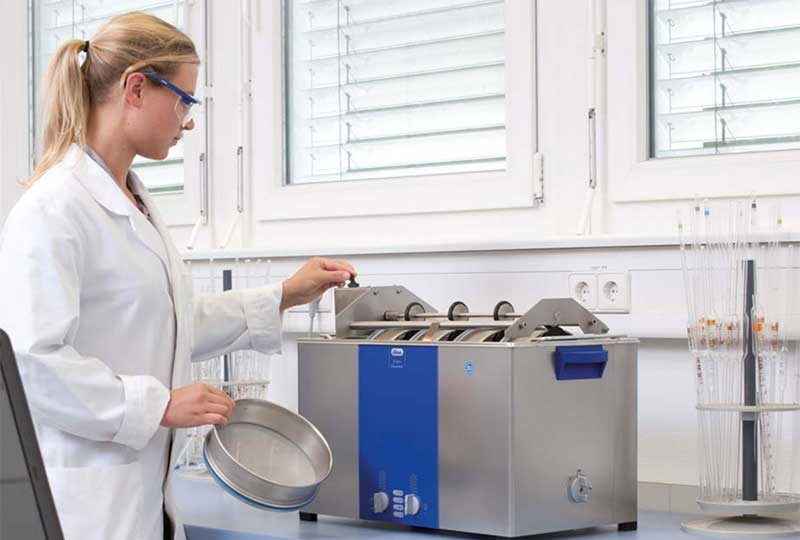 Fine mesh lab sieves can trap particles that unless removed will contaminate future analyses. Manual screen cleaning using brushes can damage test sieves - a risk that is avoided when you use specially designed ultrasonic cleaning equipment designed for lab sieves. Moreover, as described in this post, ultrasonic sieve cleaning equipment finds wider application in pharmaceutical and food research labs.
How to Clean Single Test Sieves with the Elmasonic S50R
Our first approach to cleaning lab sieves is S50R ultrasonic sieve cleaner offered by iUltrasonic.
The S50R features a round cleaning tank specially designed to clean one sieve at a time. While this configuration is ideal for cleaning round test sieves it also works well for other lab functions.
The unit operates at a 37 kHz ultrasonic frequency and is equipped with an intuitive control panel allowing users to select a variety of ultrasonic cleaning and processing applications noted below.
Internal tank diameter is 9.4 inches, height is 5.1 inches and cleaning solution capacity is approximately 1.5 gallons. Mesh baskets or holders for 200 mm (8 inch) and 100 mm (4 inch) diameter sieves can be ordered separately.
Uniform cleaning action throughout the cleaning solution is achieved with the S50R automatic Sweep mode. This mode avoids areas of high, low and no cleaning energy and is ideal for removing soluble particles trapped in lab sieves.
In the S50R, Sweep automatically alternates with the powerful Pulse mode to remove insoluble particles when the "Sieve Cleaning" button is activated on the control panel. This helps assure complete removal of all contaminants from sieve screens.
Electric Sieve Rotation Holder Cleans 4 at a Time
The electrically powered SRH 4/200 sieve rotation holder offered by iUltrasonic holds up to 4, 200-mm (8 inch) lab sieves. Clamped in a slightly canted position they are rotated into and out of a cleaning solution in an ultrasonic unit described below. Because the screens are canted, particles fall to the bottom of the ultrasonic cleaner tank.
The rotation feature of the SRH 4/200 also serves as a rinsing action, further contributing to thorough cleaning.
At the end of the cleaning cycle the SRH 4/200 assembly with sieves is removed and placed on the inverted lid of the ultrasonic cleaner to drain. Examine screens thoroughly to assure insoluble particles are not locked into the mesh. If so they should be carefully dislodged using a brush.
The SRH 4/200 is designed to pair with the 7.5-gallon Elmasonic EP300H ultrasonic cleaner.
Ultrasonic cavitation produced by the Elmasonic EP300 H creates billions of minute vacuum bubbles. These implode vigorously against the surfaces of objects being cleaned to quickly and safely dislodge contaminants.
The unit operates at 37 kHz ultrasonic frequency. Features include a heater (30⁰ - 80⁰C) and a timer (1 to 30 minutes or continuous). A permanent Sweep mode assures even distribution of ultrasonic cleaning power and speeds the removal of soluble residues.
Activate the Pulse mode to achieve a 20% boost in power to remove particularly stubborn contaminants or degas fresh cleaning solutions. The unit's power tracking feature adjusts cleaning to light or heavy loads. Cleaning tank dimensions are 19.9 x 11.8 x 7.9 inches (LWD).
Get More Utility from your Ultrasonic Test Sieve Cleaner
Other Lab Applications for the S50R
Other functions handled by the versatile S50R ultrasonic sieve cleaner include solvent degassing, sample prep and cleaning lab equipment.
Degassing whether for HPLC solvents or for preparing fresh ultrasonic cleaning solutions is accomplished by activating the "Degas" button on the control panel. This operates the cleaner in an on-off mode that causes air bubbles to form, rise and burst.
Dissolving difficult samples and performing chemical extraction in a fast and safe manner is accomplished by using the unit's "Sample Prep" button.
Processing can take place in glass beakers fitted into a special cover or by suspending them at least one cm in the liquid in the tank. The Sample Prep key can also be used for routine instrument cleaning in an ultrasonic cleaning solution using the unit's optional stainless steel mesh basket.
There is an on-off key for standard cleaning and a timer showing set and remaining time.
The S50R ultrasonic cleaner is fitted to accept an optional laboratory stand and clamp to hold flasks and solvent bottles at the correct position in a water bath with a surfactant.
Other Lab Applications for the EP300H
When the Elmasonic EP300H is not cleaning test sieves there are other lab applications for the unit - thus increasing its value and utility.
Examples include cleaning lab glassware and other tools that must pass stringent cleanliness requirements to avoid cross contamination.
For these applications objects to be cleaned are placed in baskets then lowered into the ultrasonic cleaner tank.
A specially formulated biodegradable cleaning solution Elma Lab Clean N10 is available for lab sieves and other lab equipment. This is a neutral pH, foam-inhibited cleaning concentrate for ultrasonic cleaning and for lab parts washers.
Diluted to 2% with water it is especially effective in removing emulsions, residues of markings and labels, lime soaps, light greases and oils, fingerprints and dust.
Other Lab Sieve Cleaning Tips
As with any process involving ultrasonic cleaning, best results can be achieved by first removing loose contaminants. When cleaning lab sieves do this by shaking or using a very soft brush.
After repeated cycles, cleaning efficiency will drop off. This signals that it is time to replace the cleaning solution. Drain the tank and follow local regulations regarding solution disposal. Take the time to clean the tank as described in the user manual.
Summing Up Test Sieve Cleaning Options
Ultrasonic energy proves highly effective in removing particles trapped in fine mesh lab test sieves. Ultrasonic cleaning is fast, avoids potential damage caused by brushing, and can achieve 100% particle removal. This post described two ultrasonic cleaner configurations to clean test sieves and find additional utility in food and pharmaceutical research labs.
Questions on Cleaning Test Sieves?
For expert answers to any ultrasonic cleaning questions you may have please contact the experts at iUltrasonic for unbiased recommendations.